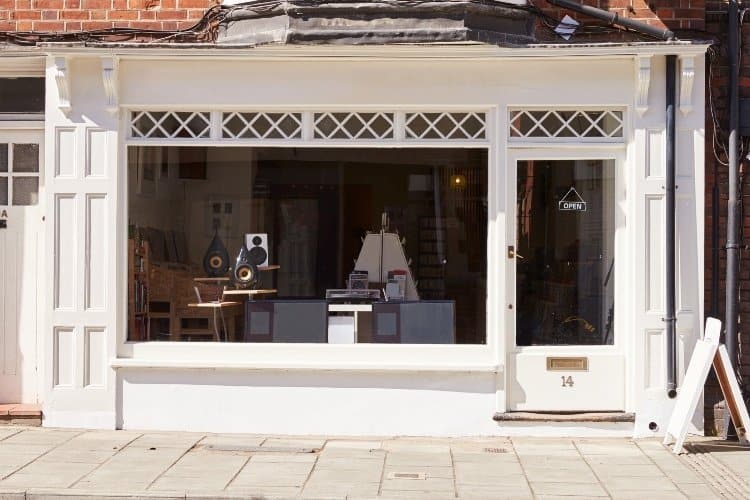 With so many shops and retail units on the high street, you have only seconds to stand out and grab your customer's attention. 
Of course, there are two ways to achieve this: through a grubby-looking shop front or a highly polished, professional-looking front. 
We would hope all store owners opt for the latter; however, to keep your shop front cleanliness high, a little maintenance and cleaning are required. 
Maintaining your shop front clean
Use the right products for the job
No one wants to see smudges and streaks when cleaning their shop front glass area. It's a painstaking task to start with, so you need to make sure you use only high-quality products and a clean cloth for the best results! 
Take care of your walls
Frames and walls around your shop front should be kept as clean as possible as these surroundings make an impact on your display areas.  Shop walls add to the shop front's overall appearance, and it's important to make sure that frames aren't chipped, scratched, or marked in any way.  Steam cleaners can be great in these instances and don't cause further damage or wear and tear. 
Check your display contents
It's a great form of advertising displaying your products in your shop window, but not if these products are starting to look slightly shabby and on closer inspection are covered in dust.  Make sure you dust and wipe clean the contents of your window display regularly and include it as part of your everyday activities. 
Fix any chipped paint
It's not appealing, and it can give a negative impression of your business.  Touching up any chipped paint and carrying out a little maintenance is good practice all around.  
Keep it simple
Busy shop displays can not only be confusing, but they also mean more cleaning!  Keep it simple by only displaying what you're currently promoting and changing your display when you carry out your regular cleaning processes. 
When it comes to shopfront cleanliness
Take advantage of downtime – when customers are no longer shopping and browsing, take the opportunity to dust and tidy rubbish away. 
Look down – research has highlighted that customers' eyes are drawn to the floor, so make sure to pick up any rubbish and sweep floors regularly.  Also, make sure not to forget about your welcome mat – keeping everything as welcoming as possible. 
Carry out regular reviews – checking areas and displays on a regular basis and putting window display cleaning and changing on a rota system, so dust and dirt don't have the opportunity to build up. 
Hire a professional – if you have large glass fronts or find you don't always have the time to clean and maintain your shop windows and the surrounding area, make sure to hire a recommended professional.  Most professional commercial cleaning companies will provide you with excellent service and tailor the cleaning to suit your requirements. 
Problem areas faced by the shop and retail owners
Broken signage

 

Dirty windows

 

Graffiti

 

Out of order doors

 

Litter outside the shopfront

 
Of course, regular cleaning, window cleaning solutions, bins outside, and scheduled litter pick days will all help to alleviate these issues. 
However, when it comes to graffiti, this can be another issue entirely. 
Sometimes if carried out on purpose and by graffiti artists, graffiti styled on shopfronts can look incredible. 
Graffiti, in the form of vandalism, however, turns customers away hugely, and it is a shop owner's biggest bugbear. 
The best solution in these instances? 
Anti-graffiti paint. 
Anti-graffiti paint is a clear coating that consists of pigments, binders, and solvents – protecting your shop walls and maintaining your aesthetically pleasing exterior. 
If graffiti is currently a problem, the best way to be graffiti-free is by a blast cleaning method.  This cleaning process helps to restore your storefront back to its original, clean beginning. 
Crucial Engineering understands that your shop front Leeds is your opportunity to create a good impression and welcome your customers in with open arms.  
That is why we provide a range of aluminium shop front styles for businesses to choose from, with customers recommending us over and over again. 
First impressions count; don't let a shabby shop front negatively affect your sales. 
Call 03451 930 420 
Reference video: GLSVideoChannel